Facebook For Restaurants: How, When & What To Post
This is the 2nd post in our series on social media for restaurants. This series is aimed at the beginner level, with basic knowledge of social media. This week we'll be focussing on facebook for restaurants. Specifically why, how, when and what to post.
If you missed it, here's a link to our 5 Great Ways to Use Instagram for Restaurants blog post. It has some great tips for starting out and what to post.Facebook is probably the most common social media platform for hospitality businesses, and for good reason. It is like a mini-website for your business, with a large potential reach. Some businesses even have a facebook page and no website. While I don't advise that, I certainly think that facebook is an important platform for hospitality businesses, especially restaurants.
Although facebook has changed significantly and you may have heard about their declining growth, it still boasts 1.4 billion active users, so is still a very useful business tool.
Top 5 Reasons To Use Facebook
Let's first look at the top 5 reasons why you should have a presence on facebook;
Your customers are on facebook – it's the largest social network in the world. And if your customers engage there, you should be there too.
You can learn a lot about your customers – this is probably the most important reason. If you use it properly you can gather information on your customers that can significantly improve your business.
There are fewer restrictions on the type of content you can utilise – twitter, instagram, youtube, pinterest have limited types of content available. With facebook you can use text, weblinks, photos, videos, apps, etc… all in the one place.
It's cheaper than Google Adwords – the cost per click through is significantly cheaper using facebook ads.
It's good for your SEO – it helps build your online presence, which ads to your searchability, a must in this day and age.
When you use facebook you are trying to create an engaged community. This really just means that you want to interact with users that are your customers or potential customers in a way that increases their loyalty to your business.
And while using social media for your business may be free, you should look at it as an investment, the same as you would view any marketing activity. To use it effectively you will need to commit time (whether yourself or assigning someone else) to being in charge of monitoring and posting on your facebook page. And this means regularly, not once a month or so.
3 Simple Guidelines to Get the Most Out of Facebook
Be consistent
You need to post and engage regularly to build this community. Ideally it is great to post daily, but if you're just starting out try every few days. There are ways to automate posts, but you will still need to monitor your page at least every couple of days.
Be timely
This relates to your monitoring. Social media is all about immediacy. A customer or potential customer who takes the effort to engage with you wants a reply as soon as possible. Whether it's negative or positive, you should by replying to anyone that engages with you within a day or so (preferably the same day).
Be real
The most important thing to do when using social media is to 'be yourself'. People engage with social media to connect in a personal way. Use language you would use when speaking directly to your customers. Show off your business' personality – you can show your customers insights on facebook that you don't get a chance to anywhere else.
What To Post
Now that we've covered how to be a good facebooker, let's get onto what you're all here to find out – how to use facebook effectively.Here's some ideas of what to post;
1. Pics
Customers love getting a sneak peek into your world. Try pics of;• prep time in the kitchen• dining room or event set up for the day• pics from an event you've hosted• daily special dishes or signature dishes• happy customers and their testimonials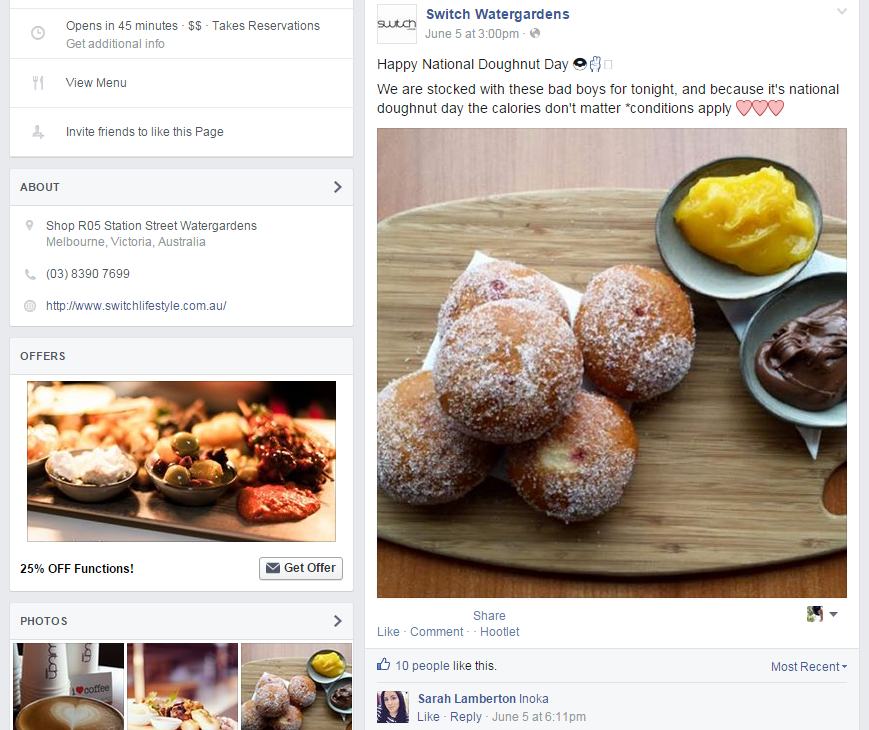 Long term client Switch Lifestyle posted this pic of a special dish for 'Donut Day' recently. They got 10 likes and 2 comments, not bad at all!
2. Videos
Videos are becoming more and more popular. They are much more engaging and better internet makes them accessible anywhere. Have you thought of;• cooking demonstrations• staff interviews / profiles• tour of your workplace• footage from special events• customer testimonials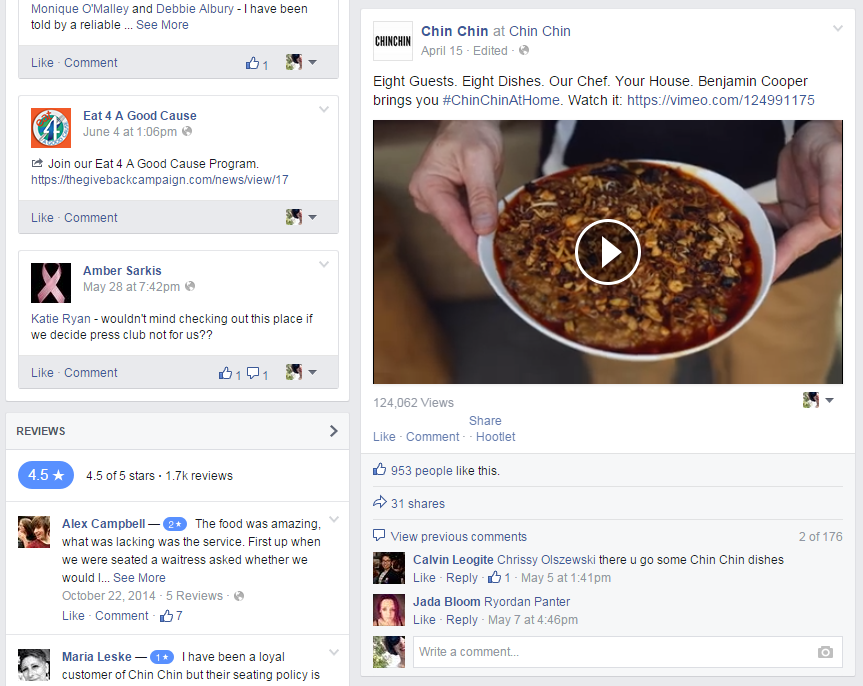 This is a video from one of our valued clients, Chin Chin Restaurant. They have a stellar social media presence, this video link has nearly 1,000 likes, over 30 shares and 176 comments – great engagement! While you may not have their resources, even a simple video of your staff preparing a signature dish will bring you increased engagement for a long time.
3. Offers
Facebook has facilities to create special offers, which customers can claim. These are great data gathering tools and easy to set up. Try creating one of the following;• daily specials to encourage customers to visit.• competitions to engage your customers and reward them.
I couldn't find an example from one of our clients, but here's what a facebook offer looks like. It's a great opportunity to offer something to existing clients to promote loyalty and to encourage new customers. It's easy to evaluate your return as it is all tracked, and obviously it's not that well utilised, so it's a great opportunity for you.
4. Surveys
Try surveying your customers, or simply asking open ended questions. You'll be surprised by the insight you gain. It could assist with menu design, pricing, portion sizing, staffing, pretty much anything you can think of.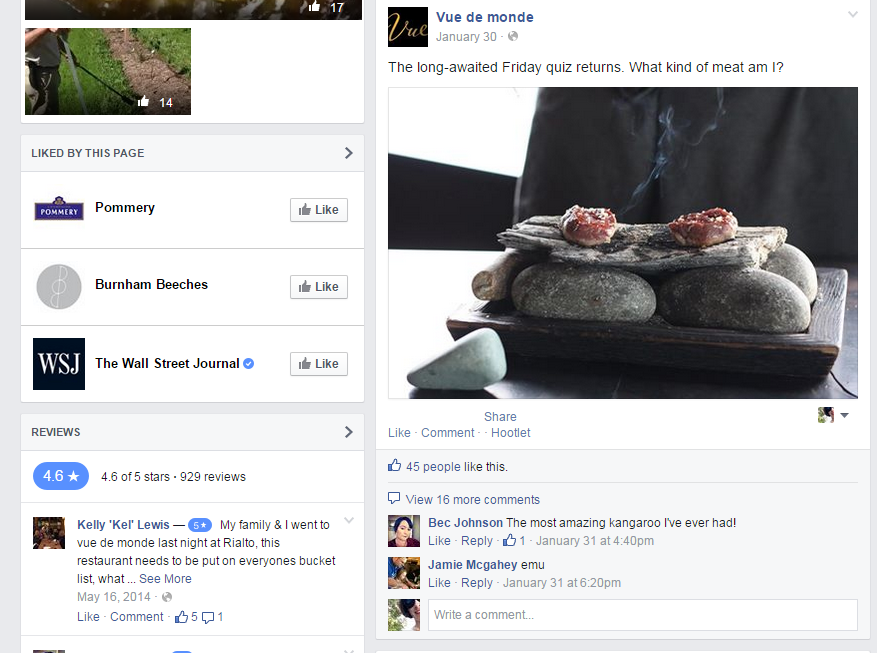 While this isn't strictly a survey, the quiz from Vue de Monde, is a playful way to increase interaction with your customers. This post has received 45 likes and 18 comments – not too shabby at all. A note though, including a pic with your questions will increase your engagement as people engage more with images.
5. Repurpose content
This is a fancy way of saying use your ideas across all your marketing strategies. And it doesn't always have to be your own content. As long as it's relevant to your customers, it can work. Have you considered;• Posting pics from your Instagram or Pinterest account, or pics you've been tagged in by your customers• Linking to funny/interesting videos on youtube that are relevant to your business or customers• Linking to other articles or media that you think would interest your customers – perhaps a new bar has opened close by?• Posting any press coverage you've gained.• Posting a link to any blog articles you write.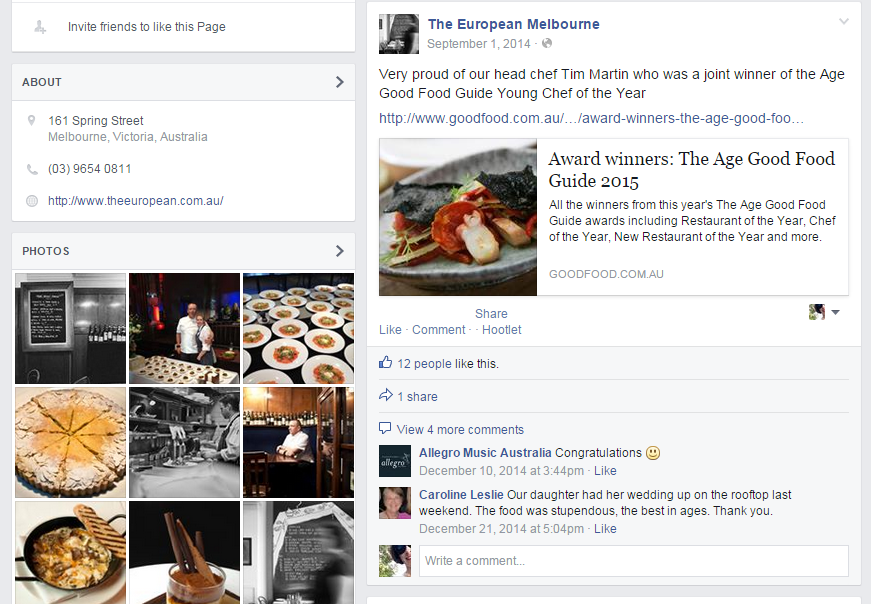 The European Melbourne has posted about some coverage in The Age. The cross link will help with SEO and they received 12 likes, 1 share and 6 comments – a great result from just using someone else's content.
If you're still reading at this point – thanks! And well done, you're on the road to social media success!
I think it's very important that I note here that facebook should be a part of a cohesive marketing strategy. If you only have limited resources, I would recommend using a combination of facebook and Instagram to start with. They have the most relevant users to your business as a restaurant.
I hope you've found this post on facebook for restaurants valuable. I'd love to know how you go with implementing any of these tips.
Check out these posts for more marketing tips;
Database Marketing for Restaurants
Ciao!