3 Quick, Easy & Cheap Ways to Use Pokemon Go in Hospitality Business
Is your restaurant or cafe at a Pokestop?
Do you have any Pokemon nests nearby?
What about Pokemon gyms?
If you have no idea what I'm talking about, don't despair, I'm here to tell you all the important stuff – what matters to you and how to leverage it in your hospitality business.
How many of your customers are playing Pokemon Go? If  you think none – you're wrong.
If you are baffled by the new Pokemon Go mobile game your not alone. But, it's not rocket science. There are a few, quick, easy, and cheap ways that you can leverage the popularity of Pokemon Go for your hospitality business and connect with your customers. If you want to know how to leverage Pokemon Go in your hospitality business read on…
Hospitality businesses are in a unique position to be able capitalise on the viral trend that is Pokemon Go. Most of the things players are looking for are located in public spaces and landmarks, including parks, street art, and sometimes cafes.
Pokestops are markers (shown by blue markers in the game) where players can pick up items for the game.
Gyms are locations (shown in the game by towers with the winning team's colors) where players can compete against each other.
Pokemon nests (shown by floating green leaves in the game) are areas where finding Pokemon is common, but not guaranteed.
Unfortunately you can't make your hospitality business into any of the locations mentioned above. But we've identified 3 easy ways to make the most of this Pokemon Go trend.
Here are the top 3 ways to use Pokemon Go in your hospitality business. 
Paying for lures at nearby Pokestops
Pokemon themed products 
Pokemon promotions 
Let's look at these 3 ways in more depth…
Paying for lures at nearby Pokestops
This will work best if you are quite close to a Pokestop, like within 50 metres. Or if you are the closest cafe or restaurant.
You can purchase lures, which you can activate at Pokestops. These Pokestops will then attract Pokemon to appear, which is an easy way for players to catch Pokemon, one of the main aims of the game.
They cost $1.49 each (or less if you buy them in packs) and last for 30 minutes. During that time, nearby players will see floating purple confetti alerting them to the fact that the Pokestop has an active lure. So hopefully these locations will draw more people to them. If they are out playing on their lunch break perhaps they will need a bite to eat? Or if they are walking past in the morning perhaps a coffee?
You could make the most of these by adding a Pokemon specific promotion or fun Pokemon product. Try putting up a sign up to let customers know that you put the lure there for them and I bet they'll appreciate it.
Pokemon themed products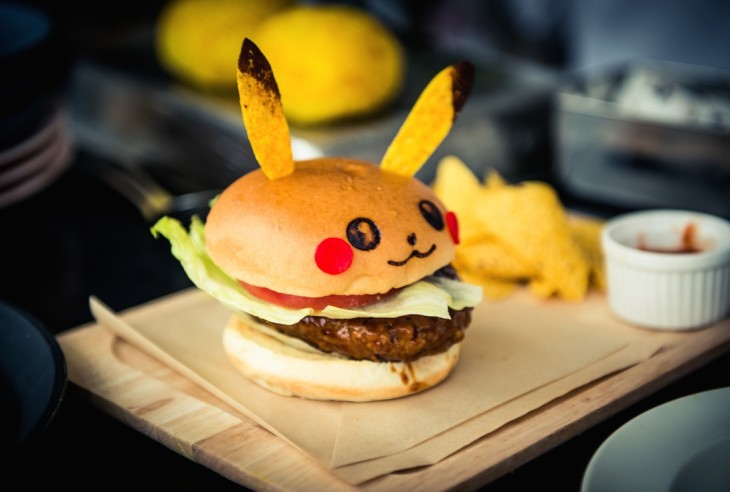 Consider adding a Pokemon themed product as a special or limited time product. How about a Pokecino? Or a Pikachu burger? Themed products let your customers know that you get what they are into, and makes them feel like you know them. This obviously improves your relationship and customer loyalty.
The good thing about this strategy is that you don't have to be near a Pokestop or gym to use it.
Pokemon Promotions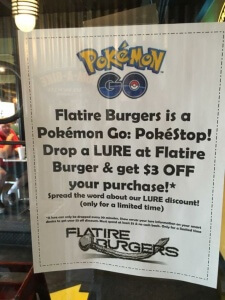 This is another strategy that doesn't need proximity to a Pokestop or gym, but it will work extra well if you are. Create a promotion specifically for Pokemon Go players. Perhaps a happy hour with discounted prices for players (coupled with a lure this would be great). Or you could offer a free drink with meal purchase for any player that catches a Pokemon at your business and tags you in a picture of it on their instagram.
In time Pokemon Go may become even more commercial. There are rumours that they are already trialling paid-for Pokestops at McDonald's locations in Japan. But in the mean time, make the most of these cheap and easy marketing strategies in your hospitality business to increase sales and connect with your customers.
You can be super creative with these strategies. If you come with any other great products or promotions let me know. So, will you be trying any of these strategies out this week? If you do be sure to let me know how it goes. Tag @avtes in your instagram or facebook pics.