Congratulations 2017 AVTES Awards Winners!
Each year AVTES rewards our most high achieving students and employers through the AVTES Awards. We'd like to present the 2017 AVTES Awards winners and finalists.
The AVTES Awards recognise and reward excellence in training. As well as the important role apprentices, trainees, students, and employers play in building a productive and rewarding training culture.
The winners and finalists for the 2017 AVTES Awards are;
2017 Winners and Finalists
AVTES Employer of the Year
Winner  – PubCo Group, VictoriaFinalist – Alexandra House, HamiltonFinalist – Bank St & Co, Port Fairy
AVTES Apprentice of the Year
Winner – Olivia Kennedy, Certificate III in Commercial Cookery, Crown Hotel Lilydale Finalist – Rachel Wilks, Certificate III in Commercial Cookery, Images Restaurant Warrnambool
AVTES Student of the Year
Winner – Erin Stirling, Certificate IV in Hospitality, Zagames
All nominees impressed us with their positive and proactive approaches to training. We would like to congratulate all the winners, finalists and nominees on their achievement. Well done!
Find out more about our worthy 2017 AVTES Awards winners below.
AVTES Employer of the Year 2017 – PubCo Group
PubCo Group operates 13 hotel venues across Victoria. A major building and renovation project is underway to improve the quality and facilities of their properties. Rapidly growing PubCo recognises its success is based on its people. So they are heavily investing in the skills and knowledge of their people.
Group Internal Auditor, Matt Nicola, has implemented a company wide training strategy. To improve leadership within the management team and create consistent service standards across their venues. 37 management staff across their venues are undertaking training. Training in Certificate III and Certificate IV in Hospitality. AVTES Trainers deliver training at workplace workshops.
PubCo plans to include training as an ongoing strategy. Including further upskilling of management as well as implementing training for line staff.
AVTES Apprentice of the Year 2017 – Olivia Kennedy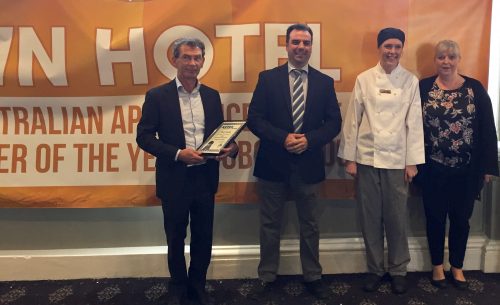 Olivia Kennedy is a passionate, emerging chef and a dedicated student. A self-starter, she seeks out new culinary trends and skills. In addition she has excellent presentation and communication skills. Supervisor Kim Carthy praises Olivia's maturity and dedication. She has given Olivia the opportunity to prove her leadership skills by managing a section of the kitchen by herself.
Since being awarded Apprentice of the Year Olivia has been promoted to Sous Chef at Crown Hotel Lilydale.
AVTES Student of the Year 2017 – Erin Stirling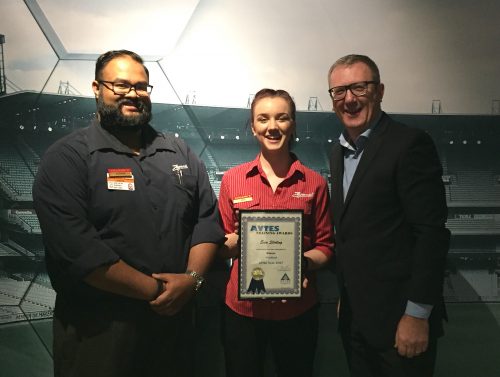 Erin Stirling is an up and coming food and beverage professional. Beginning her career at Zagames Ballarat, Erin's manager identified her as a high achieving team member. Zagames have supported Erin in undertaking Certificate IV in Hospitality and moving to Melbourne to undertake work experience in a metropolitan venue.
At only 19 years of age Erin is a positive, hard working team member and student. She is proactive. She undertakes her own private study, research of wines and cocktail making.
Erin has recently been promoted to Trainee Manager at Zagames Ballarat and is planning further study.
The AVTES Awards and the Victorian Training Awards
The AVTES Awards coordinate with the Victorian Training Awards. All winners, finalists and those interested are encouraged to nominate for these awards. You can find more information on them here.
The annual AVTES Awards are a fantastic opportunity for students to be recognised for their efforts, and enhance their career prospects.  And for employers they are a fantastic way to share success with their employees. To find out more about the AVTES Awards click here. If you'd like to be notified when the AVTES Awards are next open for nomination please join our mailing list.