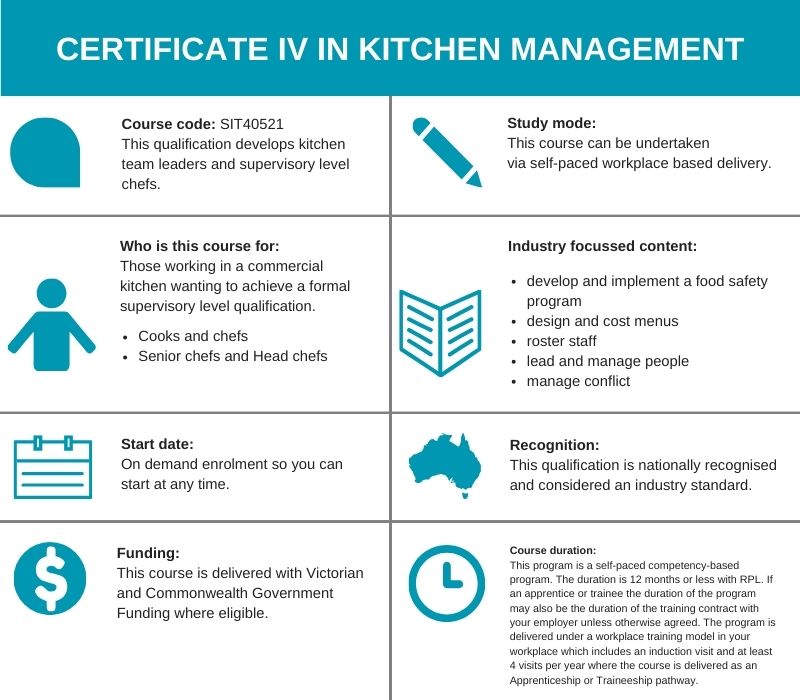 Course Structure and Units
CORE UNITS (TWENTY SEVEN)
SITXFSA005
Use hygienic practices for food safety
SITXINV006
Receive, store and maintain stock
SITHCCC023
Use food preparation equipment
SITHCCC027
Prepare dishes using basic methods of cookery
SITHCCC028
Prepare appetisers and salads
SITHCCC029
Prepare stocks, sauces and soups
SITHCCC030
Prepare vegetable, fruit, egg and farinaceous dishes
SITHCCC031
Prepare vegetarian and vegan dishes
SITHCCC035
Prepare poultry dishes
SITHCCC036
Prepare meat dishes
SITHCCC037
Prepare seafood dishes
SITHCCC041
Produce cakes, pastries and breads
SITHPAT016
Produce desserts
SITHCCC043
Work effectively as a cook
SITXFSA006
Participate in safe food handling practices
SITHCCC042
Prepare food to meet special dietary requirements
SITHKOP010
Plan and cost recipes
SITHKOP015
Design and cost menus
SITHKOP013
Plan cooking operations
SITHKOP012
Develop recipes for special dietary requirements
SITXHRM008
Roster staff
SITXCOM010
Manage conflict
SITXHRM009
Lead and manage people
SITXMGT004
Monitor work operations
SITXWHS007
Implement and monitor work health and safety practices
SITXFIN009
Manage finances within a budget
SITXFSA008
Develop and implement a food safety program
SPECIALISED FOOD ELECTIVE UNITS (SIX) 
BSBCMM211
Apply communication skills
SITXINV007
Purchase goods
SITXINV008
Control stock
SITHKOP014
Plan catering for events or functions
SITHCCC026
Package prepared foodstuffs
SITHCCC044
Prepare specialised food items
BUFFET SERVICE ELECTIVE UNITS (SIX) 
BSBCMM211
Apply communication skills
SITXINV007
Purchase goods
SITXINV008
Control stock
SITHKOP014
Plan catering for events or functions
SITHCCC026
Package prepared foodstuffs
SITHCCC038
Produce and serve food for buffets
Pre requisites
There are no pre-requisites for entry to the Certificate IV Commercial Cookery course.
Employment Outcomes
Successful completion of this course provides the skills and knowledge to perform roles including Chef or Team Leader in a restaurant, hotel, pub, cafe or aged care institute.  Or to run a small business in these sectors.
All nationally recognised qualifications cover a range of general employability skills required in the hospitality industry. Including communication, teamwork, problem solving, initiative and enterprise, planning and organisation, self-management, learning and technology.
Enrolment
To enrol in this course you must be at least 15 years old. The course can be delivered on a full-time or part-time basis. It is suitable for a range of employees and individuals.
AVTES welcomes students from disadvantaged groups or with disabilities to apply.
Email hello@avtes.com.au to enrol now.
Fees
| | | | | | |
| --- | --- | --- | --- | --- | --- |
| Stream | Tuition Fees (SFP – T/A) | Tuition Fees (SFP – Non T/A) | Tuition Fees (SFP Concession – T/A) | Tuition Fees (SFP Concession – Non T/A) | Tuition Fees (Full Fee / RPL) |
| Specialised Food Stream | $ 1,883.25 | $2,790.00 | $376.65 | $558.00 | $15,345.00 |
| Buffet Stream | $ 1,836.00 | $2,720.00 | $367.20 | $544.00 | $14,960.00 |
Please note: students having completed the Certificate III in Commercial Cookery will receive a number of credit transfers and hence significantly lower fees. This is calculated on a case by case basis. For further information please contact us directly.
SFP – Skills First Program
T/A – Traineeship / Apprenticeship
Our Fees page covers how we set our fees and includes refund information. It adheres to government requirements set annually. All fees are based on qualification program hours and tuition fees may vary depending on units/hours undertaken and student tuition fees as published are subject to change given individual circumstances at enrolment.
Government Funding
This course is eligible for government funding. To see if you meet eligibility requirements check out our Government Funding Opportunities page, or simply contact us directly.
Course Duration and Delivery Mode
This program is a self-paced competency-based program. The duration is 12 months or less with RPL. If an apprentice or trainee the duration of the program may also be the duration of the training contract with your employer unless otherwise agreed.
The program is delivered under a workplace training model in your workplace which includes an induction visit and at least 4 visits per year where the course is delivered as an Apprenticeship or Traineeship pathway.
Training Hours and Commitment
To ensure a student meets and progresses through their course requirements and completes within the nominated duration, it is recommended they commit time each week to complete course work and assessments and attend any scheduled visits with the Trainer.
The specific number of hours to commit will vary and depend on the capacity of each individual. Under the workplace training model, the workplace is required to provide an (full-time) Apprentice or Trainee 3 hours per week withdrawn from normal or routine duties for the purpose of this training.
Note: Weekly hours committed to the program will vary depending on the unit of competency being undertaken.
Assessment Methods
Assessment of this course may involve the following types of assessment.
Short answer questions
Knowledge tests
Projects
Practical tasks
Supervisor verification
Demonstrations
Recognition of prior learning (RPL)

RPL and Credit Transfers
RPL, or recognition or prior learning, is available to all applicants. You will need to provide a portfolio of supporting evidence upon enrolment. We honor credit transfers from all current nationally recognised training. You will need to provide statements of attainment from your previous study. To find out more about how to provide information for credit transfers or RPL see here.
Further Training Opportunities
This qualification can form part of an Australian Apprenticeship pathway.  Upon completion of this qualification, there are further opportunities to study at a Diploma or Advanced Diploma level in either a hospitality or other related qualification as offered by a Registered Training Organisation.