Do you own or run a restaurant or hotel?
Getting caught up in the day to day running of your hospitality business?
With the right training, you will achieve;
being able to find and keep good staff
staff able to take on more responsibilities
a happy and loyal customer base
business growth and profitability
consistent service standards
better systems and processes
improved staff morale
As the owner or manager of a small business, you have the unique benefit of being 'at the coal face'. You have an advantage that larger businesses don't have. Knowing all of your staff on a personal level and being able to identify problems quickly. You can also adapt quickly to changes. Training with AVTES can help you harness this advantage and improve your business success.
Programs to help your business
Through our experience, we've noticed that people in your situation usually have these urgent issues;
high staff turnover
staff performance issues
compliance or legislative needs
AVTES has a range of services that are relevant to you. In our experience, the following programs are particularly suited to a business like yours;
We're know your problems and how to help
We recognise that as owner or manager of a restaurant or hotel you want cost effective and time efficient solutions. Our ultimate goal is for you to improve your bottom line.
At AVTES we've been working with small businesses for 20 years, we know your problems and that you need specific solutions. About 95% of Australian businesses are small businesses and they employ 50% of the Australian workforce.
Restaurants and cafes in particular have quite diverse workforces. They often employ migrant workers and low skilled workers. But also need highly skilled supervisors and managers. So their training needs are quite specific, but also very broad.
They also operate in a highly competitive environment. So efficient and effective business systems and strategies are crucial for success.
If you own or manage a restaurant or hotel you probably get caught up in the day to day running of your business. And probably find it hard to find any time to spend on important things like strategy, planning and growth. But it doesn't have to be that way.
With the right systems in place, you can step back from the front line and work 'on' rather than 'in' your business. That's where great training comes in.
How training will help you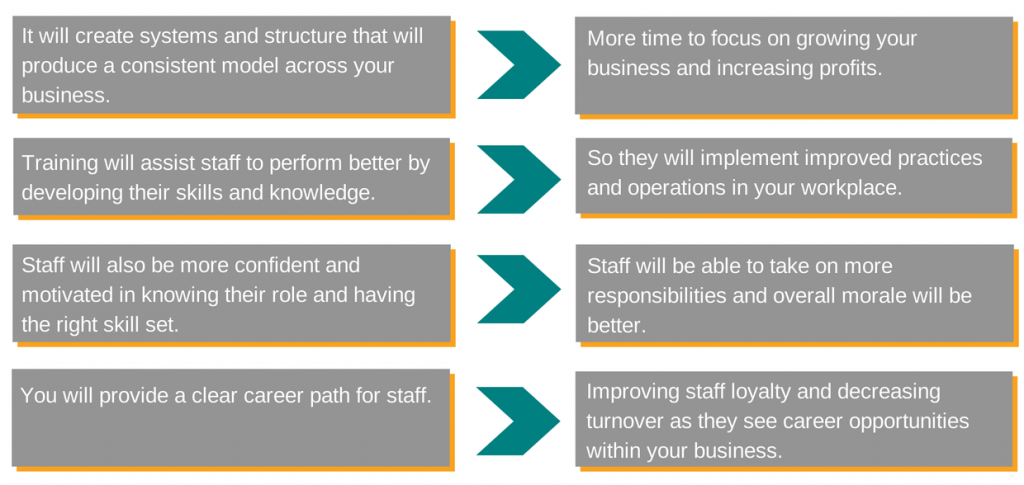 Other information you may find useful
Please check out our Course List and Services pages to see our full suite of programs.
Ready to get started?
If you'd like to discuss what we can do for you or you're ready to enrol, we'd be happy to come out and meet with you, just contact us by clicking the button below or phone Chris Fitzgibbon directly on 1300 764 418.